Embarking on Fertility Treatment
"I don't feel like a real woman, because I can't have children."
Against the background of their involuntary childlessness, women and their partners talk about such concerns and many other thoughts and feelings. In most cases, they have been struggling in vain for quite some time to overcome their infertility issues. According to statistics, one in five couples is faced with such or similar problems. What can be done about it?

In order to finally realize their dream of having a child, many couples seek medical assistance and therefore turn to an IVF center. In the majority of cases, the cause of infertility can be reliably identified through targeted investigations and overcome by using various possibilities available in the field of assisted reproduction.
Your journey towards the long-awaited baby
Backed by our expertise and longstanding experience, we are committed to helping infertile couples realize their dream of having a healthy child - and this if possible as early as in the "first therapy cycle". This requires the creation of optimum conditions in order to succeed at the first attempt.
Our experience gained over the last 30 years allows us to precisely know how to work out a therapy regimen, what exactly is necessary to make it successful and what methods should be applied so that all couples can benefit from improved chances of getting pregnant.
The sequence of a treatment is depicted below and is to serve as an initial orientation for interested parties. In a personal discussion, your attending physician will inform you in detail about what to expect from IVF treatment that is exactly tailored to your own particular situation.
Infertility
The precise causes of infertility in women/men need to be explored by our specialists. Subsequently, they can determine the appropriate treatment for each couple.
CONTACT
---
The single steps involved in IVF treatment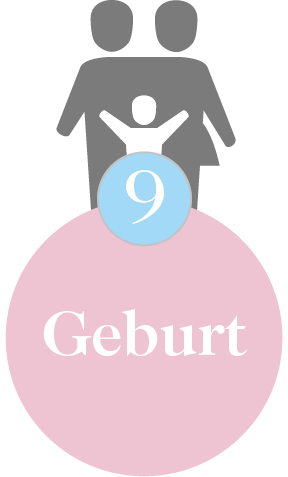 9. Birth
Each time parents get in touch with us to notify us of the birth of their children, we are overjoyed at the thought of having this wonderful task.
"Our shared success is the birth of your child!"